AUDIO BOOK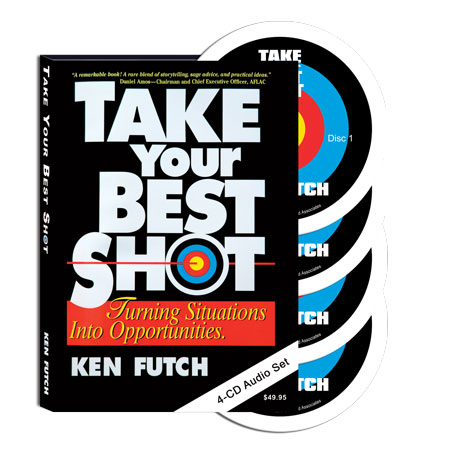 "It took a shot through the head to open up my mind."
-Ken Futch.
One part William Faulkner and one part Yoda, Ken Futch filters advice through his wry sense of humor to give readers a vicarious ride on the frontlines of his life. And oh what a life!
Using his most famous mishap of accidentally shooting himself in the head as the springboard story, Take Your Best Shot is filled with anecdotes that begin in Burgaw, N.C., and skedaddle to Vietnam then back to the real jungles of corporate America.
Along the way, readers get memorable career counseling from someone who has proven he is no stranger to either adversity or success.
In addition to the infamous bullet, Ken weaves stories about snow skiing in a bathing suit, washing windshields at his dad's ESSO station, losing 88-0 in a high school football game and sidestepping bullets and vipers in the jungles of Vietnam (as well as corporate America) into a tapestry of good old-fashioned career and life advice.
$49.95
The Secrets of Influence – Insights for Professionals (DVD)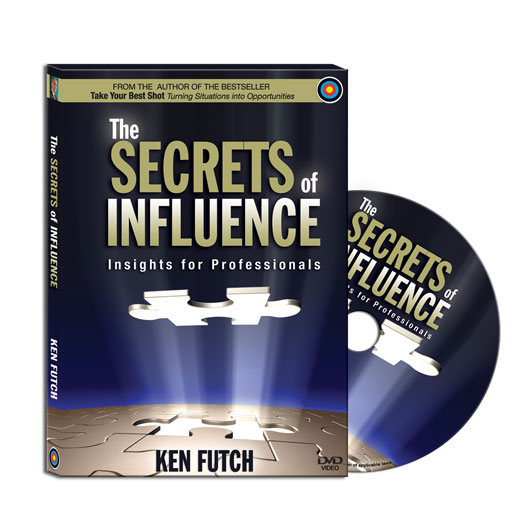 In his DVD "The Secrets of Influence – Insights for Professionals," Ken Futch delivers a keynote presentation to a group of professional speakers. This high-energy program delivers crucial concepts for any business professional seeking to improve his or her game and get ahead in an increasingly competitive job market.
With Secrets of Influence, learn how to:
Harness the power of past failures;
Make your message relate to others;
Eliminate communication barriers;
Avoid common disconnects;
Gain synergy through team diversity;
Capitalize on personal stories; and
Acquire ideas for remaining relevant
"[The Secrets of Influence DVD provides] Powerful learning points embedded in extraordinary humor."
Gene Griessman, Ph.D., author of Time Tactics of Very Successful People and Lincoln on Communications