Ken Futch Inducted into NSA Hall of Fame
Lifetime Award Recognizes Speaking Excellence and Professionalism
"What began as a tragedy became my destiny." That's how Ken Futch, author and dynamic speaker, describes the single life moment – shooting himself in the head –  that catapulted him into the world of professional speaking where he has now traveled the globe making people laugh while they learn. His talents have led to his recent induction into the National Speakers Association (NSA) Hall of Fame.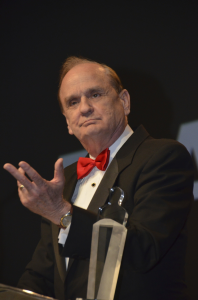 The Hall of Fame Distinction, also called the Council of Peers Award of Excellence (CPAE), is an honor that has been bestowed on fewer than 220 speakers worldwide since 1977. The lifetime award recognizes speaking excellence and professionalism. Notable speakers such as Ronald Reagan, Zig Ziglar and Norman Vincent Peale have also been named to the National Speakers Association Hall of Fame.
Futch is also the author of the book, Take Your Best Shot, based on his popular keynote. It's filled with priceless insights and stories about turning difficult situations into opportunities. He delivers humorous keynotesthathelp organizations and individuals take aim at what they really want out of life, and then do what it takes to hit their bullseye of accomplishment.
Futch is a graduate of the University of North Carolina at Chapel Hilland was commissioned as a lieutenant and served in Vietnam as a combat platoon leader.  Before founding his company in 1986, Ken was in sales and management with AT&T, where he was recognized for achieving the best results in a group of 6,000 salespeople. His success led to his selection as a top trainer at AT&T's prestigious National Sales School and to being featured in Newsweek magazine.
About the CPAE
Admission into the CPAE Speaker Hall of Fame is a lifetime award for speaking excellence and professionalism. Inductees are evaluated by their peers through a rigorous and demanding process. Each candidate must excel in seven categories: material, style, experience, delivery, image, professionalism and communication. The award is not based on celebrity status, number of speeches, amount of income or volunteer involvement in NSA.